Morningside vs St Francis….a matchup we've seen before, one many wished would've been played in Daytona. Yet, these two powerhouses meet once again in the NAIA semifinals, just like last season. The Mustangs of Morningside are the #1 seed in the playoffs, while the #8 seed St Francis is the back-to-back national champions. St Francis won at home against Morningside last season, but Mustang fans say that this year is different. This time, Morningside has home field advantage, as well as momentum, as they stampede through the playoffs.
Physicality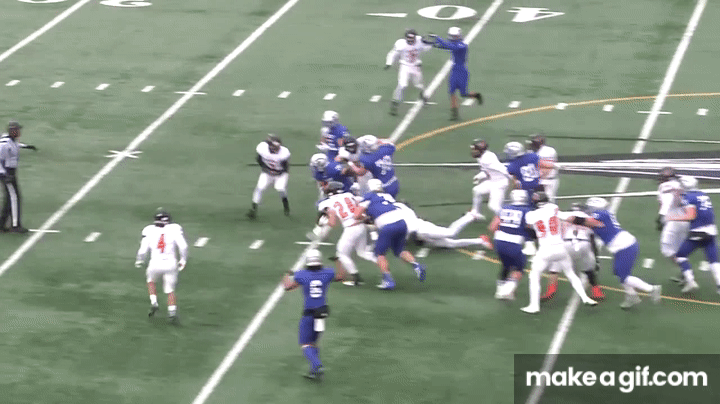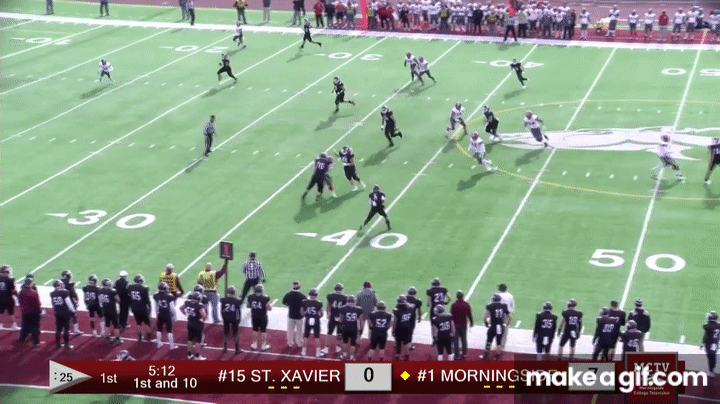 As you can see in the GIFs above, both teams take pride in their physicality. They want pulverize their opponent each chance they get. Usually, the teams that make it this far in the season are some of the most physical.
This game, like last year, will be won in the trenches. Which offensive line can protect its signal-caller? Which one can open up running lanes? Both offensive lines have bulldozed teams all season long, but neither have seen physicality like this, well, since they last played each other.
Morningside Mustangs
Players to Watch: RB Arnijae Ponde, QB Trent Solsma, WR Connor Niles, DB Xavier Spann
Record: 13-0 (9-0) also 1-0 vs DII opponent
Morningside is an explosive team that can strikes big with vertical passing and suffocating defense.  They have played only one competitive game this season, to playoff team Northwestern (42-34). The next closest margin of victory was 17 against Division II opponent Truman State. After that, they won by 4 scores against out-of-conference opponent William Penn at the beginning of the season. One of the biggest advantages for Morningside (at least according to the Mustang faithful) will be the home-field advantage.
As we mentioned earlier in the season, the Mega Powers are a huge part of this team. Trent Solsma and Connor Niles are near the top of any and all applicable statistics. Against St. Xavier, Niles was used as a decoy at times, but they still managed to give him 150+ receiving yards. The running back Arnijae Ponder isn't talked about enough. Early in the quarterfinal matchup, he pounded the ball. It will be interesting to see the play-calling balance against St Francis.
The defense is a suffocating presence, squeezing the life out of teams until it's too late. Xavier Spann leads the team with 6 interceptions, giving extra possessions to an already-lethal offense.
Team Statistics: 
Total Offense 584.7 yards per game
Rushing Offense 2,544 yards on the year
Passing Offense 5,057 yards on the year
Total Defense 244.5 yards per game
St. Francis Cougars
Players to Watch: RB PJ Dean, RB Justin Green, QB Matt Crable, WR James Rocky, WR Dan Ricksy, LB Eric Dunten
Record: 10-2 (4-2)
USF has to be one of the best turnaround stories of the 2018 season. It's an odd statement about the back-to-back national champs, but truth is often stranger than fiction. In the middle of the season, USF suffered back-to-back losses to Marian and Concordia (both of whom would make the playoffs). Some thought they would fold on the season, and not make the playoffs. But "Champs gonna Champ." Legendary Coach Donley's culture is one of character and integrity. The Cougars fought back and won the rest of their games.
If you go back and re-watch the Baker game, you might find the Baker safety biting on the play-fakes. USF does a great job in their offense with eye candy – utilizing motion, pop passes, and play-action fakes. This holds off safeties and linebackers to literally pop passes over defenders. This has helped simplify the reads for QB Matt Crable, and has made him more efficient and productive. Running back Justin Green is a name to watch for, even if he has been banged up this season. Morningside will remember him well, as he had 200+ rushing yards against the Mustangs last season.
Team Statistics: 
Total Offense 401.6 yards per game
Rushing Offense 2,024 yards on the year
Passing Offense 2,795 yards on the year
Total Defense 271.3 yards per game
Game Prediction
This has been an amazing season for the USF Cougar dynasty, and their mid-season rebound was amazing. To win, they must play their best offensive game this season, and get healthy quick. Morningside simply has too many weapons to be stopped this season, and has home field advantage to boot.
Morningside 42, USF 28
---